Just say NO! to trust falls.
PowerProv business improvisation training delivers awesome communication, collaboration, and camaraderie without the BS.
We use the power of improvisation to propel people forward.
See why 100's of successful Australian companies rate our workshops #1. "Even as a virtual workshop, my team got to know each other better, had fun, bonded, and built trust."

"It's a safe, fast-paced, mind-expanding environment and get's you thinking differently about how to solve problems"

Kamal S.
Management Consultant
"I was nervous beforehand, but everyone was pleasantly surprised. Don't be scared, give it a go."

"We learned to accept and embrace failure and to be receptive, and adaptive to when problems arise."

Jeremie S.
Research Analyst
"Loved the tools for innovation and idea generation. High energy, playful and fun."

Cassie H.
Innovation Specialist
"I loved seeing my team go outside their comfort zone and get more closely connected and confident."
Jayne O.
Digital Marketing
"Well suited to any organization that wants to help their teams connect more, improve focus, active listening and have fun."

Katrina M.
People and Culture
"So much to take away and apply at work. Facilitators were awesome and time flew by. Highly recommended."

Tim H.
Chief Marketing Officer
"It was great to learn to be open and flexible and build on other people's ideas without giving up my own."

"The skills you learn are vital for everyone and anyone. We want to do this on a regular basis!"

Join the thousands of people who love our fun team building activities.
Improved leadership, mindfulness, communication, innovation and teamwork await.
Transcend the thinking process and learn to knock on the door of instinct and intuition.
When most people think of improvisation, they think of comedy, but there's more to improv than making stuff up and having a laugh.
Improv is all about learning to "React, Adapt & Communicate," as well as stay focused, especially when the unexpected occurs.
To do this well, we need to get out of our heads and get into the moment. And learn to trust ourselves and each other.
Read more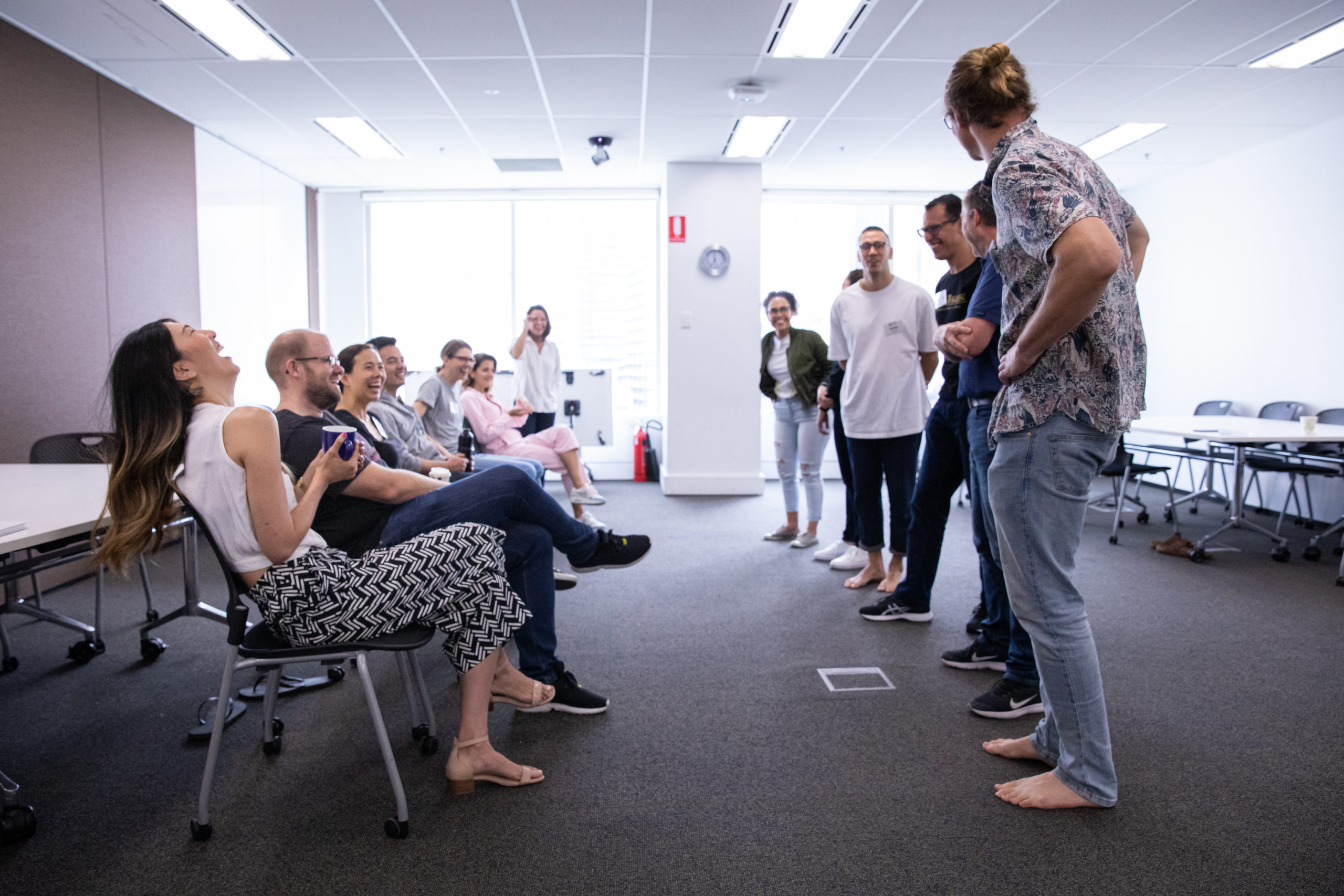 The CEO has questions.
You have answers.
Get this super short guide that any busy leader can skim through in seconds flat. Inside you'll find:
Clues to help eliminate that Sunday night feeling.

Seven reasons why PowerProv makes sense in 60 seconds.

Why People & Culture, Learning & Development, and HR peeps love us.

Two big improv myths and one small one – busted!

A way you can get a raise without asking for one. *
*Maybe
GET THE GUIDE!